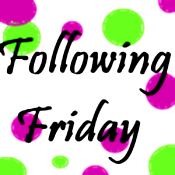 Hosted by Let's Just Give It Away, Made♥ By♥Jess,
And Then There Were 4, Buzzing The Day Away,
and Whirlwind of Surprises
*NEW*
Each week we will be selecting one blog at random (who follows the rules below) to be the Blog of the Week and will be listed in the #6 Spot!
Here is how you can join:
1. Link up your blog URL on Mr Linky.
2. Follow the Hostesses ( and leave a comment so they can follow you back).
3. Grab The Following Friday button and paste it somewhere on your blog or in a post.
4. Follow as many blogs as you like and when they follow you, follow them back. (leave a comment on their blog so they can follow you back)